Among my many passions, an affection for comedy ranks at the top of my list. I like all types of comedy and have even studied how such brilliant comedians practice their craft. Making others laugh is a great skill, and it is therapeutic as well. Everyone knows health studies show laughing is a great remedy for many ailments. Laughter is known to stimulate many organs, enhances intake of oxygen-rich air, stimulates the heart, lungs, and muscles, and increases the endorphins that are released by your brain.
Introducing Jesse Appell
One brilliant comedian who serves as a huge inspiration to me is a young man named Jesse Appell. The reason why Jesse is so inspirational is because his humor serves to build cultural understanding between the English-speaking world and China, and he does this with such grace and thoughtfulness.
I met Jesse more than a decade ago in Beijing, where he was studying Chinese comedy on a Fulbright scholarship. I have read books about comedy in China, but practicing this takes so much talent. Being funny is probably the easiest achievement. Superior language ability, verbal skills, and a deep understanding of Chinese society, are among the list of other things a comedian needs to master before succeeding in Chinese comedy.  Anyway, I met Jesse, and he was becoming famous for producing this very fun video called "Laowai Style". Laowei means "old foreigner" in China.  Take a look.
This video was basic comedy for Jesse. Jesse was training with one of the masters in China of something called "crosstalk", a dialogue style of comedy where one person plays a straight man and the other is the comic. It is a traditional performing art in Chinese comedy, and a very popular element in Chinese culture performed at tea houses.
Jesse and I have been close over the last decade and I have watched him become one of the most famous foreign artists in China. He appears on television shows, is a regular on the cruise ships, and he performs at many live events.
Jesse Brings His Craft To The US
At the beginning of Covid Jesse was in the US, and given visa and travel restrictions, he was not allowed to travel back to China. Jesse ended up moving to the US at this time, he set up a very successful tea business (another inspiring story), and he has been performing at US and European colleges, who have large populations of Chinese or a Chinese program. This past week Jesse performed at the US-China Institute at University of Southern California and killed it. More than 100 students packed an auditorium, listened to Jesse's routine, and stayed for more than two hours to speak with Jesse about his craft.  Here is a picture of Jesse at USC, and an example of his Chineses standup.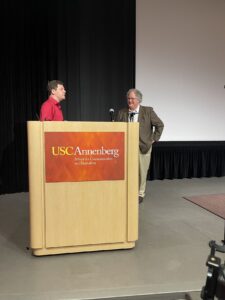 Another Comedian, Nate Bargatze
A special thanks to my sister Dana, and her husband Michael, for inviting Jacquelin, Samuel and me (Lisa is in Taiwan), with our childhood friend Beth Moeller and her husband, John, to a comedy show in LA performed by Nate Bargatze. What was so impressive about this comedian is that he performed for about an hour, was very funny and he didn't swear nor make any jokes about sex. His show was just pure family comedy. I am not so prudish to not enjoy jokes that touch on more sensitive parts of life, but this comedian was very clean and funny.  Thanks, Dana and Michael, for that dose of medicine this past weekend. Here is a quick clip from one of his performances.
Inspired by Tennis
I have also been hugely inspired this past week by the tennis at the US Open. I love the rising young people who are entering the stage and thoroughly enjoyed watching Coco Gauff win the women's singles contest. Her speech at the very end was very touching. Here is the inspirational clip from her comments. Many lessons here.
Congratulations also to Novak Djokovic on his fantastic win..
Finally, many thanks for all of the birthday wishes many Monday Morning Mojo readers sent along. I am very grateful and blessed by this community. Wishing you all some comedy, laughter and inspiration from great contests like what we witnessed this past weekend at the US Open.