Today's Monday Morning Mojo focuses on the beauty of age and growing older. My inspiration for this comes from seeing the news of Vogue Philippines's April cover model, Apo Whang-Od, who, at 106-years-old, became the oldest person ever to appear on the front of Vogue.
Residing in the mountain village of Buscalan, about 15 hours north of Manila, in Kalinga province, she is considered the country's oldest mambabatok — or traditional Kalinga tattooist. Vogue Philippines explained, "Heralded as the last mambabatok of her generation, she has imprinted the symbols of the Kalinga tribe—signifying strength, bravery, and beauty—on the skin of thousands of people who have made the pilgrimage to Buscalan."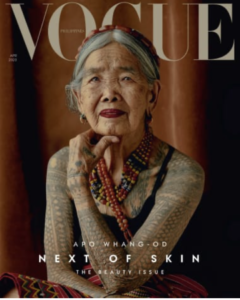 This reminded me of a podcast I listened to a few years back featuring the top selling business author Jim Collins, who spoke about the brilliance of management guru, Peter Drucker. Apparently, Drucker wrote 2/3 of his nearly 40 books after the age of 65.
A congratulatory shout out here to a former neighbor and MMM reader from Flint, Michigan, Joyce Beach, who is a few decades older than me and in the process of finalizing a book she wrote on her experiences in China.
Fun Facts About The Older Generation
How many MMM readers know former US Senator, John Glenn, was 77 years-old the last time he traveled to space in 1998, or that Pablo Picasso produced 347 engravings at the ripe age of 87?
The oldest known person living is a woman by the name of Maria Branyas of Spain, aged 116, and the oldest man is Juan Vicente Perez of Venezuela, aged 113.  Apparently the 100 oldest women have, on average, have lived several years longer than the 100 oldest men.
There is a guy named Walter Orthmann who set the Guinness World Record for working at the same company for 84 years and nine days (as of Jan 2022). He's 100 now and still drives to work every day. Talk about a company man!
Speedy Tanaka
How about this Octogenarian for inspiration.  In 2018, at 87 years-old, Hiro Tanaka set a world record at the World Masters Athletics in Spain for the 100 meter sprint.  At 92, he set a new world record for the 200 meters at 38.79 seconds.  Take a look at this form.  Apparantly Tananka only started running after he turned 60 years old.
The Oldest Living Person
Get this, the oldest living person ever was Jeanne Louise Calment, who was French and loved chocolate and port wine (which she claimed were the secrets to her longevity).  She died at the age of 122 years, 164 days.
I am not surprised about Chocolate and wine reference. I reminded my wife, Lisa, that like wine, I am getting better with age.  She reminded me Rodney Dangerfield said the same thing to his wife, and she locked him in a cellar!
Final thought for this week. If you have not watched the new movie Air, about Nike's signing of Michael Jordan, I highly recommend this. It was incredibly inspirational.  Enjoy.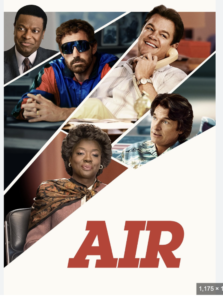 Have a great week everyone