I have been wanting to write about pets and the role they play in serving as human's best friend. There is just so much to be written about this topic, and I am clearly not the expert.
In full disclosure, I did not grow up a dog person. If I remember correctly, we had a dog for one day in my youth, and it just wasn't the right fit. My wife, Lisa, was a cat person as a child, and she absolutely loves everything about cats. Our kids Jacquelin and Samuel, however, are allergic to cats, and that led us to dog ownership when my kids were very little. (I should note before we knew about our kid's allergies, we acquired an American Shorthair cat, Simba, Lisa absolutely fell in love with. While the kids were in college, Simba would live with us, but when they returned home, Simba was shared with one of Lisa's best friends who adopted her immediately).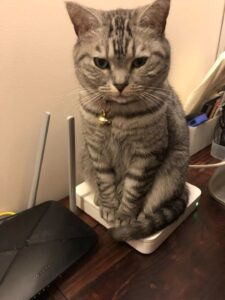 Welcome Dudu
About 18 years ago, without any discussion in our family, Lisa went to a market with Jacquelin and Samuel, and came home with a small dog, a mix between and Pomeranian and Pekingese, we called Dudu. Dudu was a fantastic addition to our family, and I have the best memories of him escorting and picking up the kids from school every day. Dudu, pictured below, passed away at 15 years old, and it was a very somber moment for our family.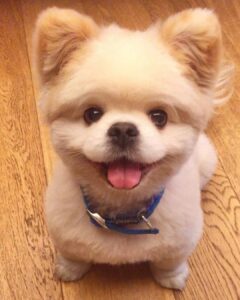 The Arrival of Teddy
About one year later we got a small Poodle by the name of Teddy, who brought instant joy to our family. Teddy and I bonded immediately pre-Covid, but given transport challenges during the pandemic, Teddy has been residing with Xiao Hui, a close family friend in Anhui, China who helped us immeasurably when we lived in Beijing.  Teddy is pictured below.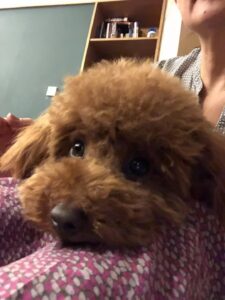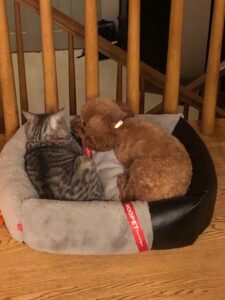 The Transformative Power of Levi
In the middle of Covid, in April 2021 to be exact, a two-month-old Golden Doodle, named Levi, joined our family. Levi, pictured below, has been transformative for us. Lisa and I joke that we used to walk around our Los Angeles neighborhood ourselves when we first moved back to the US with few people saying hello, but the minute we got Levi, we had tons of friends. Few people really know our names, but they know Levi very well.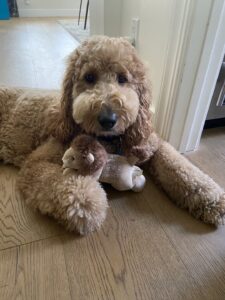 Inspiration from Family and Friends
I mentioned I am not the expert, because we have friends who clearly are. My former boss, Chris Graves, not only has owned several dogs, but he can bark in almost every breed. Steve Dahllof, another boss, had the most beautiful dogs in Hong Kong. My colleague, Marion McDonald, was not only a passionate dog owner, but she became a certified dog trainer because she loved her little ones so much. A few of my friends from Flint are also inspirational dog owners with differing breeds and varying stories.
Interestingly my siblings are all dog owners, with Erin taking the prize now looking after three dogs owned by her fiancé. And, in Los Angeles, we have close friends, the Krassenstein's, who adopted Levi's sister, Ziggy. Dan and Huiping Krassenstein are clearly dog-people, and they have taught us so much about caring for Levi. What is an absolute riot is watching Levi and Ziggy get together, pictured below. They clearly love each other and know they are siblings.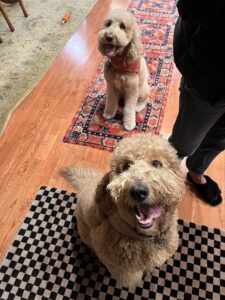 More on Levi
I could write loads about how much happiness Levi has brought to our family. He is tied at Lisa's hip, he loves to take up my side of the bed at night, he is clearly the brother Samuel has dreamed of, and Jacquelin's favorite boy. I should call out Samuel for his leadership in finding Levi with Huiping and bringing him into our life.
To be honest, there are times I have been jealous of Levi. Lisa clearly loves this guy and is his overwhelming caretaker. I asked Lisa what I have to do to get the same treatment, and she said, "sit, be quiet, do whatever I say, don't ask too much from me, and when I feed you, eat everything like this is your last meal." I am trying.
The Real BFF
Some of the greatest joy I have had has been watching Levi play with his BFF – Best Friend Forever. Levi has found a friend in a dog called Beef, owned by a great family in our neighborhood, the Huang's. Levi's day is not complete until he sees and squabbles with Beef. While I believe dogs can be a human's best friend, to watch Levi and Beef play is a pure joy, and that is why I am writing this post now.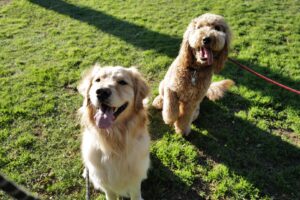 Recently we learned Beef has cancer, and he has had both good and bad days. On the good days, Levi and Beef fight amusingly.  And on the bad days, it is nice just seeing them sit together. They somehow know each other's limitations and pain.
I have always thought dogs were human's best friends, but maybe they are just great friends with whatever comes their way. In the case of Beef, clearly Levi found his BFF in Beef, and that is not intended to be a play on words.
Thanks for reading and being part of this community. Have a great week ahead.