For today's Monday Morning Mojo, I am sharing a few moments of inspiration I witnessed or observed these past two weeks.
To begin with, I want to share this news report from McComb, Michigan, my home state.  Amidst a lot of challenging national news recently involving the police, this report brought a smile to my face. What a model officer! I am hoping these such stories, and simple acts, make their way more frequently into popular discussion.  Take a look.
Next, sharing pictures of my son, Samuel, me, and my colleague from Taiwan, Adonis Chang. A few months ago, I promised Adonis I would bring him to a Lakers' game when he traveled to Los Angeles for his Chinese New Year vacation. Well, his visit coincided with the possibility of Lebron breaking Kareem Abdul-Jabbar's all-time scoring record. That happened on Tuesday, February 7th, and Samuel, Adonis and I were witnesses. Here are a few pictures of the moment.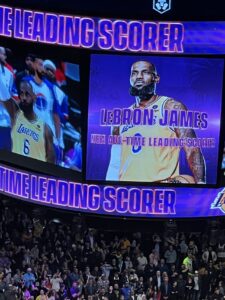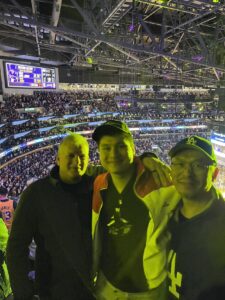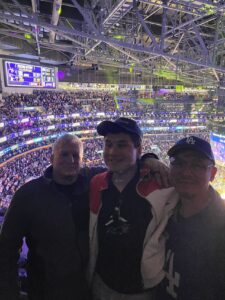 Separately, if you have time, Kareem's blogpost about how he felt when LeBron broke his record is very good read. Kareem, himself, continues to be a hero for many, and I find his writing to be most inspirational.
Finally, a huge shout out to my long-time friend, Joe Guerrisi, and his wife Renee. I was Joe and Renee's guest at a NASCAR race in Los Angeles on Sunday, February 5th, and I learned so much about a sport I know little about. First, I was impressed by how much preparation went into putting on such a race. Not only the production, but the amount of engineering, data analytics, and the combination of art and science displayed by the drivers were eye-opening for me. Here is a picture of Joe, Renee and me at the LA Coliseum.
Joe shared with me last year's amazing, "Wall Ride", of Ross Chastain, the guy in the photo below.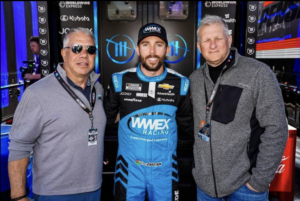 Simply, to pass all of his leading competitors and to win the race, Ross let go of the steering wheel and rode the wall past all of his competitors. Sounds crazy, but it was enough to win the race and raise his profile.
Just a bit of inspiration I encountered most recently.
On a more somber note, I learned this weekend of the passing of a long-time friend and career mentor of mine, Howard Bragman. Howard was always generous with his time and advice, he was a friend of my family, and he grew up down the street from me. He makes the list of famous people who grew up in Flint, Michigan, and it is especially poignant because he works in the field of public relations.  Rest in Peace Howard and thank you for everything.  Here is an article about his passing:
Wishing you all a very good week ahead.