For today's Monday Morning Mojo, I have included a few items of inspiration which made their way into my consciousness this past week.
Ralph Waldo Emerson Poem
To begin with, I want to share a poem on the definition of success by the famous philosopher, poet, essayist and lecturer from the 1800's Ralph Waldo Emerson. Given the challenges we face today's world, I appreciate this simple articulation of success from centuries ago. Enjoy.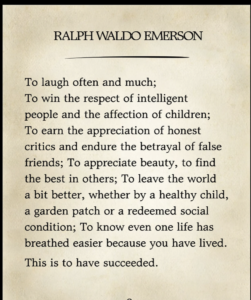 A Prescient Essay
In October 2022, a well-known and respected Boston Globe writer, Jack Thomas, passed away. When he learned he was going to die, he wrote a poignant essay preparing for his death which was very moving and worthy of a larger audience.  If you have moment, listen to his reflective essay, entitled "Getting Ready For Death With Few Regrets".
https://www.wbur.org/hereandnow/2021/08/19/jack-thomas-death
Standing Up To Racism
Finally, last week I listened to the New York Times Daily podcast on a very brave Leland, Michigan school superintendent who advocated for more racial tolerance in her community. I soon realized this woman went to high school with me and grew up in our neighborhood. This is a much longer listen and a fascinating story on an important issue if you have the time.  I am proud to know Stephanie Joseph Long and respect her bravery.
https://www.nytimes.com/2022/10/16/podcasts/the-daily/the-sunday-read-daring-to-speak-up-about-race-in-a-divided-school-district.html
Have a great week ahead and thank you for being part of this community.