While I have intended to make the Monday Morning Mojo apolitical, I have also worked to give light to inspirational stories I felt were worthy of a larger audience. Well, in just two weeks since my last post, the world has been turned upside down. No matter what platform you get your news from, witnessing the crimes against humanity, in real time, committed against everyday Ukrainians is gut wrenching. None of this makes sense, and the longer this conflict continues and the deeper the Russian troops advance in Ukraine, visions of a peaceful end, or an "off ramp", become harder to imagine.
Yet, while the tragedies of war unravel on TikTok, Twitter, Facebook, 24-hour news channels or whatever news you consume, there is movement of humanity taking place. In today's Monday Morning Mojo I hope to share a few of the inspiring stories that have caught my attention that give hope, inspire and demonstrate some of the best of human nature.
First, at the beginning of the conflict I was watching the news and saw a clip from the city of Melitopol where residents stood in front of an advancing Russian convoy and blocked its path.  Russian soldiers confronted them with rifles, but they refused to budge. The bravery of these citizens is truly inspirational. Here is a short video from that event.
Second, a shout out to the famous chef Jose Andres of the World Central Kitchen. Jose traveled to Eastern Europe and set up kitchens to feed fleeing refugees. I had the honor of meeting and hosting Jose in Beijing years ago, and he is certainly "larger than life".  This is just one example of how everyday citizens are working to serve those in need during these horrific times.
Third, nothing soothes tragedy like music. I was made aware of the travels of Davide Martello, an Italian man who traveled from Germany with his piano to the Ukrainian-Polish border to bring peace and hope to refugees through his music.
Here's a picture of the famous cellist Yo-Yo Ma doing his part performing in front of the Russian Embassy in Washington, DC.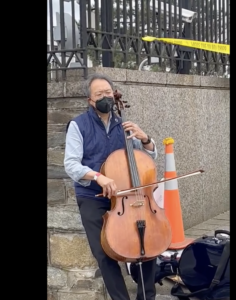 Fourth, as we celebrated Women's Day on March 8, I saw about a number of stories about Ukrainian women on the front lines of the war. This report from Canada's Global News focuses on a few of those stories of bravery and sacrifice by Ukraine's woman.
Fifth, a huge shout out to the many foreign correspondents risking their lives to report what is happening. I have a few friends in Ukraine reporting the news and have many friends who have been war correspondents. The emotional toll war reporting takes on these reporters goes far beyond the stress levels many of us feel during a lifetime of work. Few of these journalists do this for the pay. Rather, those I am close to put themselves in harm's way because of a broader mission.
I have always respected organizations like Reporters Without Borders and the Committee to Project Journalists (CPJ) for the important work they do protecting journalists. Already in the Ukraine conflict, Chief Correspondent of Britain's Sky News, Stuart Ramsay, along with his camera operator, Richie Mockler, have already been wounded – Ramsay in the lower back while Mockler took two rounds in his body armour. Shout out to both of these gentleman for a speedy recovery.
I also want to celebrate Benjamin Hall of Fox News. I read a story in the Washington Post about Hall correcting the record of Greg Gutfeld, who was diminishing the severity of the war. We need more journalists committed to telling the truth and not perpetuating half-truths and biased beliefs. That story is here https://www.washingtonpost.com/media/2022/03/09/ukraine-fox-news-gutfeld-hall-emotional/
A few other quick notes…
I saw a post by the Ukraine Library Association concerning the cancellation of their forthcoming conference.  It basically says, "We will reschedule just as soon as we have finished vanquishing our invaders."  Bravo!
Here are few pictures that struck an emotional cord with me.  One is from the Wailing Wall in Jerusalem.  The other is from Poland where mothers have left their baby strollers for Ukrainian mothers arriving by train.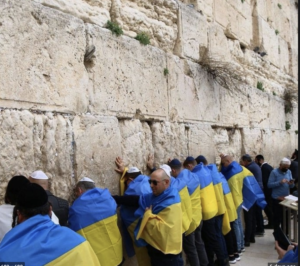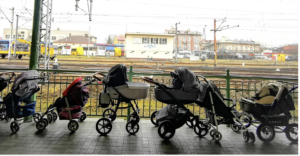 Just a bit of inspiration in the midst of struggle to begin your week.
Wishing the world and everyone in the Monday Morning Mojo community better days ahead.
Many thanks for being part of this community.