For today's Monday Morning Mojo to kick off 2022 and prepare for the Chinese Year of the Tiger, a bit more of a serious post.
I believe one of the greatest threats to society today is the crisis of truth we are experiencing globally, and the proliferation of misinformation contributing to this. It's time we do something about this.
Years ago I became aware of the use of artificial intelligence to create what is known today as "deepfakes", which is defined as a video of a person in which their face or body has been digitally altered so that they appear to be someone else. Jordan Peele, the American director, comedian, and actor demonstrated this using former President Obama as his example.  That video is here:
I was reminded of this because my son Samuel explained to me how other examples of AI are being used to spread misinformation. I also had a delightful dinner with my good friend and long-time Beijing resident, Jaime FlorCruz, and his wife, Ana. Jaime, or Jimi as many friends refer to him, recalled reporting incidents in Beijing where some journalists of respected media outlets would take certain liberties with facts based on questionable Mandarin comprehension abilities.
Given the crisis of truth we are reminded of every day, I have made "critical thinking" as one of my core objectives for the year. Over the past decade as I speak with people inside and outside of China about world events, particularly as they relate to China, I have always asked them to be aware of the lens by which they see the world. Despite our very best efforts to be objective, everyone has their biases. In my experience, recognizing these is a first step in understanding other people's views. As a second step I often encourage people to check the sources where they are getting their information, and to consider other credible news outlets to confirm or rebut what they are hearing.
This whole process is defined as critical thinking, and I would argue it is among the most important skills we must develop today. By definition, critical thinking is the objective analysis and evaluation of an issue in order to form a judgment. It is discussed often in academic circles, and I believe we need to make this mainstream.
Here is a youtube video from an educator, John Spencer, that presents this concept, and he offers a five-step approach for improving our own abilities in this area.
Here is also an infographic from the United Nations related to this one of my friends shared in his social media recently.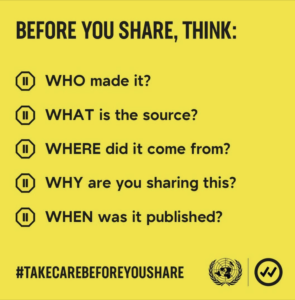 I know this is a departure from the normal flavor of the Monday Morning Mojo, but I believe if we all improve our skills in developing more fact-based judgments, we will be happier in our daily lives.  That's what this Monday Morning Mojo is all about.  Please join me in being more critical about where we are getting our news, so we can get back decision making based on facts and evidence.
Have a great week ahead.