"Be more concerned with your character than your reputation, because your character is what you really are, while your reputation is merely what others think you are." – John Wooden
This quote spoken by the great college basketball coach John Wooden came to mind last week as I watched a nail-biting college basketball duel between the University of Houston and University of Alabama.
Both teams are exciting to watch this year, however, what impressed me most was this side story shared by my good friend Dan Krassenstein. After Houston lost on a controversial call, a few of the Houston team members stormed off the court kicking chairs and tipping over a garbage can. But not Jamal Shead, a starting point guard for Houston. He ended up picking up the garbage after his team. One linkedIn post reported this from Shead. "Coach Herm Edwards would always tell us, 'Control the controllables.' Effort. Attitude. Energy. These are the things we dictate." Here is a video capturing Jamal Shead after the game.
When it comes to character, one athlete who is a personal hero of mine is Yao Ming, the 7-foot 6-inch former Houston Rockets center who is now Commissioner of the China Basketball Association. I was reminded of Yao Ming when I saw the video of Jamal Shead, because Yao is hugely influential in large part because of his character. I am actually less fascinated with Yao's basketball history, but more by what he has done with this, how he conducts his life and what he has meant to bridging the perception gap between the US and China.
In full disclosure, through the China Basketball Association, Yao Ming is, and has been, a client of Ogilvy for many years. He and I also sit on the Special Olympics East Asia Advisory Board. For more than a decade Yao has given his time to the Special Olympics, no matter what other commitments he had to attend to. I loved being part of this organization just to watch how the Chinese Special Olympians respond to Yao's presence. So uplifting!  Photo: Yours truly with Yao at a Special Olympics event.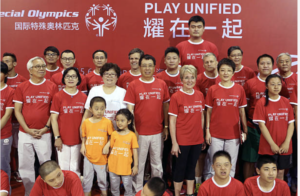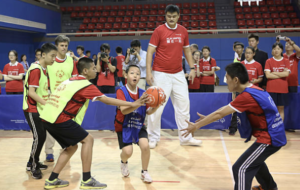 As a client Yao joins most of the meetings I have been part of. He doesn't come with a computer to multitask, nor does he glance at his phone when our team is presenting. He listens intently and loves contributing to the creative process. He cares immensely about bringing the CBA and the basketball federation players closer to fans in China and shows incredible respect to his staff and our team. It's almost like he has no ego and awareness of his fame and comes to each meeting to listen and participate.
I have written a lot about Yao Ming over the years. When I first moved to China in 1995 basketball was an emerging sport. People loved playing basketball here, but the NBA didn't have a lot of exposure. People would show up on basketball courts with street shoes and dress pants. Yao went to the NBA in 2002 and many people in China joked that, all of a sudden, the Houston Rockets, the team Yao played for, became the de facto China National Team. People started showing up on courts with NBA attire, soon to be followed by NBA-style attitude as well. On the US side I can tell you no one asked me anymore if I was the tallest guy on the basketball court. In fact, Yao was the perfect ambassador for China: talented, humble, respectful.
According to Colin Pine, Yao's interpreter from 2002-2005 when Yao first moved to the Houston, "In the time I worked with Yao and knew him, he was always an incredibly thoughtful, humble person. He had time for the people around him, regardless of what role they played.  This was illustrated in how he treated team and arena staff, or even his neighbors in Katy, a suburb of Houston.  When he spoke, he always carefully weighed his words so that they would be impactful, meaningful, and often humorous.  I recall that in that first year, which was full of struggle and triumph, he made it a point to gift Chinese New Year decorations (I remember they were beautiful, traditional red knots that are meant to hang on doors or walls) as a way of bringing his teammates closer to his own world," shared Colin.  Photo below is Colin with Yao fielding questions from the press.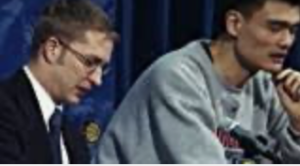 Colin added, "he built relationships with all of the local journalists and Chinese reporters who were there to cover him, deftly managing to answer questions in a clever and humorous manner, indicative of his humility and intelligence. And, most importantly for me, he was always thoughtful of my feelings and treated me with nothing but respect.  He never made me feel like I was simply an employee or there to serve him.  Instead, we were friends and helped each other."
Terry Rhoads, a good friend and China sports marketing expert, said, "Yao's intelligence, humility, self-discipline, and sense of humor all mixed together helped him to handle whatever came his way…from holding his own against Shaq, to dealing with incredible media attention, to shouldering the hopes, expectations and adulation of a billion countrymen. Truly a unicorn on and off the court."
Here's a news report that captures Yao's talent and character.
Beyond Yao's current responsibilities as President of the China Basketball Association and the China Basketball Federation, he also runs The Yao Foundation, which is China's first customized sports public welfare project for rural youth launched in 2012. Lu Hao, Yao's long-time friend and colleague and now Vice Chairman of the Yao Foundation shared details on the Yao Foundation.
Through cooperation with many teachers and sports colleges across the country, The Yao Foundation mobilizes volunteer physical education teachers to support gym classes in rural areas and to create a sports culture in remote locations. By the end of 2021, the Yao Foundation has done this for ten seasons, cooperating with nearly 40 institutions of higher learning nationwide, involving a total of 3,795 professional volunteers. In addition to providing equipment, facilities and more, some 2.71 million young people in rural areas have benefited from the program. The Yao Foundation focuses on using sport to build happier and healthy lives, and it has done this in more than 2,407 schools in 29 provinces and autonomous regions in China.  Photo: Yao Foundation staff with Ogilvy colleagues below.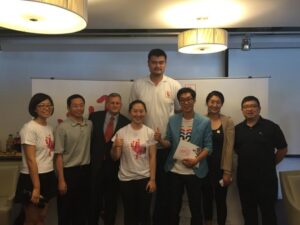 Yao's charitable activities don't stop with his foundation, however. He also has appeared in WildAid campaigns to eradicate shark fin soup as a delicacy in some parts of China, and he has campaigned to raise awareness for other endangered species. He kindly helped us years ago in Chengdu to kick off an Earth Day campaign we launched together with the World Wildlife Fund for Nature (WWF).
One friend once commented about Yao, "The thing about Yao Ming is that he is selfless with his time in helping others and campaigning for important causes. In his time, he has done more for US-China relations than any policy or politician I know."
We certainly need more people like Yao Ming and Jamal Shead today. Not because of what they can do on the basketball court, but because they model the type of "character" from people we need to guide us into the future.
Have a good week everyone. Thanks for being part of this community.