A happy Father's Day to all those Monday Morning Mojo readers who celebrated this holiday yesterday. Today's post will pay tribute to fathers in similar fashion to what I shared on Mother's Day.
Personal Shout Out To Jim Gradoville
When I think about "hero" fathers, beyond my immediate experience, my good friend and long-time neighbor Jim Gradoville comes to mind. In the late 1990's, when Lisa and I lived in Beijing, we met and became close friends with Jim, who was in Beijing working for Motorola and living in our building. Jim was a single guy at the time, in his mid 40's, and around the period when we became friends he was months away from adopting his first child. Jim wanted to adopt for some time, and he was working his way through the system in China. Less than a year later Jim's dream came true. He arrived home with Wendi and his fatherhood experience was underway. Lisa and I admired Jim and his passion for fatherhood. He was meticulous about Wendi's care, well-being and development. His experience was so successful, a few years later he adopted a second child, Whalen. Jim was still single, full of energy and passionate about raising his two young girls. Today, Jim is married to the wonderful Xiao Xia, he is living in Portland, Oregon and both Wendi and Whalen are thriving. The important lesson I learned from Jim is the role of fatherhood in providing a loving, safe and secure home, and how important that is in shaping a child's life.  To be fair, this is not only the domain of fathers, but in Jim's case, he exemplified this. Here is a picture of Jim, Wendi and Whalen when it all started.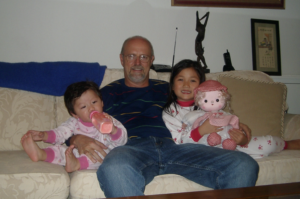 My Own Fatherhood Influences
I have had my own influences shaping my fatherhood behavior. My dad was my hero. Never short on advice, and I consider him a model citizen. He was a regular spectator at all of the Kronick kid's sporting events, and he was the one person who would share candid comments about our performance. He was extremely honest, modest and a great friend to many. In terms of life advice, I can still hear him now. "Son, life is like a bowl of cherries.  It's sweet, but sometimes you just have to deal with the pits." I see much of my dad in how I deal with things today, reinforcing the importance of parental influence and how that shapes us. My brother Brian, brother-in-law Michael, uncle Larry Scharf, and Lisa's family Jack, Liangbing and Xiao Zheng also have influenced my thinking about fatherhood. Another hero of mine is Lisa's stepfather, Wei Jin Cheng, who stepped in to raise five kids later in his life. Lisa's stepfather was very principled and most caring. I only hope Jacquelin and Samuel benefit from all of the fatherhood influence I have had.
Further Inspiration
There are plenty of inspiring stories about fathers doing exemplary things for their children. If you haven't seen the Denzel Washington movie, "John Q", I highly recommend this.
Also, in the same fashion I shared the Kevin Durant NBA MVP speech on Mother's Day, I am doing the same here for Giannis Antetokounmpo of the Milwaukee Bucks.  Giannis so passionately led his team to the East Coast Final this past weekend, and his very emotional tribute to his dad during his 2019 MVP acceptance speech is here.  The first minute of this video will give you what you need to understand Giannis' love for his father.
For the record, here is background about the history of Father's Day and a few fun facts to round out today's Monday Morning Mojo.
History of Father's Day
According to Wikipedia, Father's Day is a holiday honoring fatherhood and paternal bonds, as well as the influence of fathers in society. In Catholic countries of Europe, it has been celebrated on 19 March as Saint Joseph's Day since the Middle Ages. In the United States, Father's Day was founded by Sonora Smart Dodd, a woman who had five brother's and was raised by an only father. Father's Day in the US is celebrated on the third Sunday of June and this tradition began in 1910.
Fatherhood Fun Facts
There are more than 72 million fathers in the United States, comprising nearly one-fifth of the US population.
Fathers who share household chores with their wives tend to have more ambitious daughters.
Halsey Taylor, the inventor of the drinking fountain, was inspired to create a water fountain for public spaces in 1912 as a tribute to his father, who succumbed to typhoid fever after drinking from a contaminated public water supply in 1896.
In the underwater world of the seahorse, it's the male that gets to carry the eggs and birth the babies.
The Stevie Wonder song "Isn't She Lovely" is about his newborn daughter, Aisha. If you listen closely, you can hear Aisha crying during the song.
Thanks for reading. Salute to the fathers out there and have a great week ahead.