A Mother's Vision
In November 2020 I had the honor of meeting Shuping Zhao. Shuping is not someone most of the Monday Morning Mojo community would come in contact with. She lives on a farm in the outskirts of Beijing, a neighborhood where she has lived all of her life. She is 61 years-old and has two children, a son who lives in Australia with his wife, and a daughter by the name of Nita. When Nita was born she had complications. She was diagnosed with spina bifida, and how to treat such a condition was unknown in the Chinese countryside. Also, being a young girl at the time was not advantageous. This began Shuping's life's mission: how to prepare her daughter for the world?
At the November date when I lunched at Shuping's house, she told me when Nita was very young she wanted to find something for Nita to shine at, so she entered her into an art class. With painting as a skill, Nita excelled. She was recognized in her farm-school district and went on to boarding school in Beijing to hone her craft.  From here, she continued to thrive which resulted in a scholarship to study in Norway.
Since leaving the farm, nothing could stop Nita. Following her school experience in Norway, she received a full scholarship by the Davis Foundation to study in the United States at the College of the Atlantic in Maine, and she also attended Washington University in St. Louis. With another scholarship awarded by the European Union Commission she travelled to United Kingdom to study at the University of York, and then on to Spain for a double Master's degree. After completing all of her schooling, Nita returned to China to work. She held a series of jobs, including a stint at the 2012 Summer Olympics in London for the London 2012 Olympic Organizing Committee. In 2013, following the Olympics, Nita joined Ogilvy.
Nita is one of those people who inspires me every time I see her. She is well educated, articulate in multiple languages, driven, responsible and a fighter. When speaking with her about her condition, she told me she feels extremely lucky. According to Nita, "the people who are drawn to me are generally good people. They want to know more about me and to help. I feel my early health problems have helped me meet some very fantastic people and for that I feel lucky."
Nita reminded me at our lunch in November that it all began with her mother. An uneducated farm girl who had the wisdom and intellect to prepare her daughter for the world.  Here's a picture of us all at her home in November.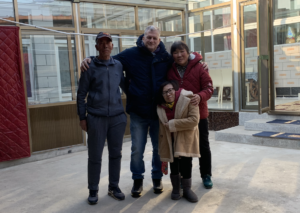 Mother's Day is a celebration of Shuping and all mothers who are unsung heroes on this planet, simple people preforming mundane tasks that shape us all for the world ahead.
Advice From My Mom
In the last issue of the Monday Morning Mojo, I did not include the volumes of advice my own mom has given me and my siblings over the years, but here are a few:
"Remember where you came from!"
"Go big or go home!"
"Tell me who your friends are, and I will tell you who you are!"
"You talk and you talk and you talk all about it, the reason you talk is because you are doing without it."
My own mom was highly competitive in her own way and wanted me and my siblings to thrive at whatever we were doing.  For a peak into my mother's ways, she used to make me read this poem each time before I swam as a young kid.
Like Nita, I have been surrounded by some pretty fantastic people all of my life. My wife, Lisa, is a wonderful mother and unsung hero. Her mom and grandmother were both great caretakers when she grew up, and they have their own colorful stories about their struggles and successes.
My sisters Dana and Erin, and sister-in-law Kathy, are all model mothers too, as well as the current matriarch of Kronick clan, my aunt Ricia Scharf. Also, we have been highly influenced by Gertrude Young, who I have written about before at this link.
https://www.facebook.com/scott.kronick.58/posts/10219531805342027
Gertrude Young is a true "Unsung Hero". And, as I finished college, I had the honor of acquiring a fun and caring stepmother, Peggy, who remains close to all of us today.
Outside of my immediate family circle, I have been influenced by many exceptional women who are mothers. Ruth (Doc) Dresser is one of those people who has been featured in the Monday Morning Mojo, and Antoinette Brown is another who I have written about her pursuit of freedom for her son Wendell.  See the March 15th blogpost,"One Mother's Mission". Antoinette is the epitome of the description of an unsung hero.
Mom, You Are The Real MVP
So on this day, Monday, May 10, the day after Mother's Day in the US, I wanted to celebrate all of those mothers out there who are today's unsung heroes.  According to Kevin Durant, the famous NBA Brooklyn Nets basketball star who was the NBA's MVP for 2013-2014, Mom, you are the real MVP.  Check out Kevin's emotional tribute to his mother, which I fondly remember watching some eight years ago.
Some Fun Mother's Day Facts For The Inquisitive Mind
To finish off this week's Monday Morning Mojo, here are some fun facts related to mothers that you probably didn't know.
There are an estimated two billion moms in the world.
Polar bear moms put on around 400 pounds during their pregnancy. If the mother doesn't double her weight, her body will simply reabsorb the fetus.
The African Black Eagle typically will lay two eggs. After they hatch, the mother will just feed one of the chicks. The other chick is usually pecked to death by the other chick while the mother looks on.
A mother orangutan never puts her babies down and typically nurses them for six or seven years, which is the longest mother/child nursing dependence of any animal on Earth.
There are about 122.5 million phone calls on Mother's Day, making it one of the busiest phone days of the year. Hint:  Call your mother!
And finally, a bit of history. Mother's Day in the US was created by Anna Jarvis and dates back to 1908, a day Jarvis spent honoring her own mother who passed away in 1905. Mother's Day, celebrated on the second Sunday in May, soon became an official U.S. holiday in 1914, however Jarvis would later denounce the holiday's commercialization and spent the latter part of her life trying to remove it from the calendar.
Globally, celebrations of mothers and motherhood vary and can be traced back to ancient Greeks and Romans, who held festivals in honor of the mother goddesses Rhea and Cybele. Rhea is a goddess in Greek mythology commonly known as the mother of gods, and Cybele was the mistress of wild nature (symbolized by her constant companion, the lion), a healer and the goddess of fertility & protectress in time of war.
I hope you all had a very happy Mother's Day yesterday. Have a great week ahead everyone and be sure to respect and celebrate your mother this week and every week.
Onwards and upwards,
Scott