Paul Dresser, my elementary school PE teacher, then soccer coach and lifelong friend, knows the secret to eternal happiness. This guy is beloved by almost everyone he comes in contact with, and I am certain many of my friends from Flint, Michigan agree.  PD, as many people know him, is rich in high quality relationships and he nurtures these every day in how he lives his life.
Below are two photos depicting PD's nature.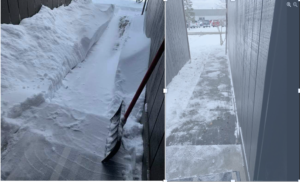 These pictures were shared by my stepmother, Peggy, who woke up one cold, winter morning last month to find PD had plowed her sidewalk and driveway after a huge, Michigan snowfall.   Peggy smiled, knowing well who did this kind deed.  In fact, PD has been doing this for years, ever since living next to my dad and Peggy. PD is an early riser and throughout the neighborhood he goes around and helps everyone out.   To be clear, he doesn't get paid for this, in his world it is what close friends and neighbors do for each other.
This is classic Paul Dresser.  He and his wife Ruth, also known as Doc, are the neighbors everyone would love to have.  They have been friends of my family for decades, rarely have a bad word to say about anyone, invest in their relationships, and they are always cordial in their dealings with anyone they meet.
I wanted to share these pictures before we get too far into spring, because PD and Doc represent the world I want to live in.
"What Makes A Good Life?   Lessons From The Longest Study On Happiness
Paul Dresser's random acts of kindness reminded me of one of my very favorite posts I shared with my staff when writing my earlier blog.  It is a Ted Talk on the "Secrets of Happiness" taken from an 80+ year-old Harvard study.  What this study found was that good, close, nurtured relationships are critical ingredients for long-term health and well-being.  If there is one thing you do this week, please take 12 minutes and watch this Ted Talk.  You will thank me later.
If You Want To Get Something Done, Focus!
Many of you know my family is a huge source of inspiration for me.   My son, Samuel, regularly provides life lessons he picks up from various places.  He sent this video to me and suggested I share it with all of you.   If you want to get something done, learn from Steve Jobs and just focus.  In the process you also have to determine what you say "NO" to. Here is a quick video clip on this topic to end the week.
Friends, lots of dopamine in this week's Monday Morning Mojo to set you on your way.   Have a great week ahead.